Need for Speed Pro Street Showroom
Brand60's Nissan Sileighty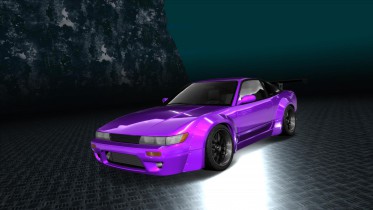 Owner: Brand60Brand60's garage
Viewed: 353 times
Share this showroom:Click to copy URL
Nissan Sileighty (シルエイティ is a 180SX with a Nissan Silvia's headlights, front fenders, hood, and front bumper installed, hence the 'Sil' in front and the 'eighty' rear. Sileighty (also written as "Sil80") originated through early street racers in Japan who owned Nissan 180SXs with damaged front ends. Because the front panels and the Silvia headlights were lighter and cheaper than 180sx replacement parts, many drifters used these parts. Unknown to the public before the release date, these end-user modifications inspired the Japanese auto shop "Kids Heart" to produce a small number of official Nissan Sileighties, together with Nissan. After that, the cars were sent for sale to Nissan stores, and Kids Heart. It's on record that 400 cars were made by this store, and were only sold in 1998 and, in fact, kouki (late model) 180sx was a Type-x tuned for drifting, the car is different from its home-built brothers by the characteristic "Sileighty" name on the back dressplate and panes. In the Sileighty includes oriented modifications such as a new ECU, stiffer suspension, improved differential, and increased turbocharger impetus from 7 psi (0.5 bar), about 13 psi (0.9 bar), approximately 230 hp (172 kW), versus 205 from the standard Silvia SR20DET or 180sx was 175 hp (130 kW) CA18DET. Oddly enough, a left-hand drive 180sx was sold in Micronesia and the South Pacific Ocean and were built with a Silvia front end, although they were never badged as Sileighties, just 180SXs.
It has become common for owners of the S13 240SX, the North American version of the Nissan S platform, to make their own Sileighties by importing a Silvia front end and installing it onto a 240SX fastback. When done to a S13 240SX notchback or convertible (both of which are based on the regular Silvia, not the 180SX) Another variation is sometimes called the Onevia, which consists of 180SX parts on the front and the rear end of an S13 Silvia. Nissan sold similar configurations in the US as the S13 240SX (notchback) coupe and convertible models.
While technically a 'Sil80', the combination of the 180SX body with an S15 Silvia front end can be referred to as an 'S13.5' for clarity, the '.5' denoting the front end conversion, similarly an S14 front end would be '.4' (Or '4a' for an S14a front) and an S13 front end would be '.3'. This naming scheme can be referred to for all models S13-S15, e.g. S13.5, S14.5 Occasionally the S15 front end conversion is referred to as the 'strawberry face conversion' due to the Japanese words for 1 and 5 which are ichi and go and when put together (ichigo) they make the word 'strawberry', hence Nissan S platform vehicles with the S15 front end conversion occasionally being referred to as strawberry faces.