Need for Speed Pro Street Showroom
Brand60's Nissan Skyline GT-R R32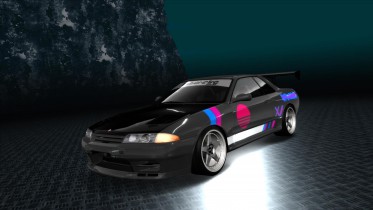 Owner: Brand60Brand60's garage
Viewed: 332 times
Share this showroom:Click to copy URL
Nissan Skyline(Japanese:日産スカイライン) is based on the actual

production model. This is the 1990 GT-R R32 version of the Nissan

Skyline, designed by Alec Tam.

The Hot wheels casting portrays a racing variation of the R32 with the

rear seats removed and with a bodykit similar to the M's Factory

widebody BNR32. The Nissan R32 was the first GT-R variation of the

Skyline manufactured since the 2000GT-R in 1973. The R32's production would end in 1994, and would be succeeded by the R33 Nissan Skyline, and eventually, the R34 Nissan Skyline, and the related R35 GT-R.

The R32 Skyline debuted in 1989. It was available as either a 2-door

coupe or 4-door hardtop sedan, all other bodystyles were dropped. The

R32 featured several versions of the RB-series straight-6

engines, which had improved heads (the twelve port inlet was gone) and

used the ECCS (Electronically Concentrated Control System) injection

system. Also available was an 1,800 cc 4-cylinder GXi model. Most models had HICAS four-wheel steering, with the rear wheels being hydraulically linked to the front steering. The 2.5-litre GTS-25 became one of the first
Japanese

production cars to feature a 5-speed automatic transmission. The GTS-t

came in standard and Type M configurations, with the Type M having

larger five-stud 16-inch wheels, four piston front callipers and twin

piston rears plus other minor differences. ABS was optional (except for

the GT-R and GTS-4), mechanical LSD was standard on the GTR and viscous

LSD was standard on all turbo models and optional on all but the GXi.

Nissan also produced 100 Australian models of the R32. In addition,

there was a 4WD version of the GTS-t Type M, called the GTS-4. This generation was considered a "compact" under Japanese legislation

that determined the amount of tax liability based on exterior

dimensions. The smaller engines were offered so as to provide Japanese

buyers the ability to choose which annual road tax obligation they were willing to pay. The station wagon bodystyle was discontinued, and replaced by the Nissan Stagea.