Need for Speed Pro Street Showroom
Brand60's BMW M3 EVO Sport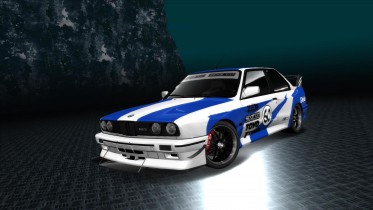 Owner: Brand60Brand60's garage
Viewed: 482 times
Share this showroom:Click to copy URL
BMW E30 is the second generation of BMW 3 Series, which was produced from 1982 to 1994. The initial models used the coupé (two-door sedan) body style, with four-door sedan models introduced in 1983, convertibles introduced in 1985 and wagon/estate

models (marketed as "Touring") introduced in 1987. The E30 was the

first 3 Series to be available in wagon and four-door sedan body styles.

It was also the first 3 Series to have a diesel engine option. All-wheel drive was introduced to the 3 Series range with the 325iX model. The BMW Z1 roadster was based on the E30 platform. The E36

replaced the E30 coupe models in 1990. Sedan production concluded on

April 30, 1991 at Regensburg, with a white example. Other variants were

phased out gradually, until the final E30 model, a Touring, was produced

in 1994. The first BMW M3 was built on the E30 platform. The E30 M3 is powered by the high-revving BMW S14 four-cylinder petrol engine, which produced 175 kW (235 hp) in its final European-only iteration. Based on the 1986 model year E303 Series, the M3 was only available in coupe and convertible body styles. The E30 M3 used the BMW S14inline-4 engine. The first iteration of the engine produced 143 kW; 192 hp (195 PS) with a catalytic converter

and 147 kW; 197 hp (200 PS) without a catalytic converter. In September

1989, power was increased to 158 kW; 212 hp (215 PS) with a catalytic

converter.The sportier "Evolution" model (also called "EVO2") introduced in 1988 produced 160 kW; 220 hp (220 PS).

Other changes included larger wheels (16 X 7.5 inches), thinner rear

and side window glass, a lighter bootlid, a deeper front splitter and

additional rear spoiler. A more powerful and lighter "Sport Evolution"

model (sometimes referred as "EVO3") with a limited production run of

600 units increased engine displacement

to 2,467 cc (2.5 L), which produced 235 bhp; 175 kW (238 PS) at 7,000

rpm and 240 N⋅m (177 lbf⋅ft) of torque at 4,750 rpm. Sport Evolution

models have enlarged front bumper openings and an adjustable

multi-position front splitter and rear wing. Brake cooling ducts were

installed in place of front foglights. An additional 786 convertibles were also produced.