Need for Speed Shift Downloads
NFS SHIFT Camera Control v1.3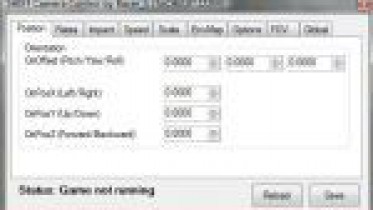 Author:
ToCA EDIT
Added on: December 9, 2009
Viewed: 6,227 times
Downloaded: 1,554 times
Favorited: 0 times
Share this file:Click to copy URL
This will allow you to edit cameras in realtime and also adds unofficial TrackIR support.

Notes:
Supports Need For Speed SHIFT v1.1 Patch ONLY
Tested on Windows XP SP3 and Windows 7.
Requires .NET Framework 2.0 and DirectX August 2009 Updates.
Supports new cameras if you've added them to cameraconfig.xml, just name them in sequence (eg; CockpitCam5, CockpitCam6) up to 10.
Backup your career if possible.
If you are using TrackIR I recommend you zero out Head Physics Scale.

Installation:
Extract files anywhere you like.
Copy 'd3d9.dll' from this package to your Need For Speed SHIFT directory if you want to use the in-game control viewer (optional, not recommended).
Or run the game in windowed mode Or Alt-Tab to edit settings.

Usage:
Run SHIFT Camera Control.exe
Run game then press * to enable control viewer. (if in-game control viewer installed)
Edit values with the mouse. (no hotkeys in this version yet)
Press Save to save current camera setting (saves to presets.dat, does not change game files)
Press Reload to reload camera data from file.
For TrackIR, make sure TrackIR software is loaded before you start Camera Control, then tick the 'Use TrackIR' box.
Press F2 if you want to use camera control in replays, remember to turn this back off or the game may crash upon exiting

Known Bugs:
Some settings require you to cycle the camera to see the effect.