Need for Speed Downloads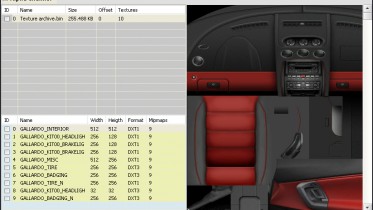 Author:
nfsu360
Added on: July 9, 2019
Viewed: 2,103 times
Downloaded: 460 times
Favorited: 0 times
Share this file:Click to copy URL
NFS-TexEd 0.9.1
by nfsu360 (nfsu360@gmail.com)
http://nfs-tools.blogspot.com/
NFS-TexEd - it is a texture extractor, importer and viewer.
The following games are supported:
- Need For Speed: Underground
- Need For Speed: Underground 2
- Need For Speed: Most Wanted
- Need For Speed: Carbon
- Need For Speed: ProStreet
- Need For Speed: Undercover
- Need For Speed: World Online (Alpha Test only)
------
-Note-
------
8-bit palettized (P8) textures are supported as ARGB palette (256 colors), NVIDIA DDS Plugin version 6.60 is recommended.
NFS-TexEd package includes this plugin, just copy dds.8bi to ...\Adobe\Adobe Photoshop \Plug-ins\File Formats).
NOTICE:
Please ensure you backup all the files you edit before saving them.
---------
-Credits-
---------
A very special thanks to (in no specific order):
CoDe RiPPeR & arushan - algorithms
Zpectre - documentation
Sido90rls - testing
-------
-Legal-
-------
Some Rights Reserved. Release / distribute as you wish, as long as no modifications are made to any part of this package without prior permission, and you don't profit from any such distribution.