Need for Speed Underground Downloads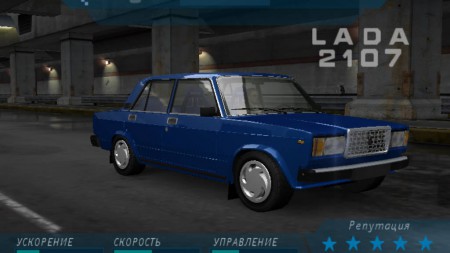 Version Underground
Brand Lada
This car replaces Nissan Skyline GT-R (SKYLINE)
This car was converted from Lada Racing Club, NFS World, NFS Carbon and GTA San Andreas by YochiThMaster333 aka Eevee (me).
Replaces: Nissan Skyline GT-R R34
Tuning:
- Front Bumpers
- Rear Bumpers
- Side Skirts
- Spoilers
- Hoods
- Roof Scoops
- Wide Bodykits
- Rims
- Neon Glow
- Headlights
- Taillights
- Muffler Tips
- Window Tint
- Paint
- Decals
- Vinyls
- Performance
Features:
- NFS:UC driver model
- Stock blue color
Known bugs:
- Manufacturer logo will also change on 240SX, 350Z and Sentra
Install:
1. Extract SKYLINE folder into game directory/CARS
2. Run NFS-CfgInstaller.exe, find path to game directory and choose vaz2107_install.u1car
3. With NFS TexEd, open FrontB.lzc, find textures ID 105 and 196, and replace with CARSELECT_MANUFACTURER_NISSAN.dds and SECONDARYLOGO_SKYLINE.dds respectively. Save
4. Run the game and choose Nissan Skyline GT-R R34. Lada Riva 2107 will be visible instead of Nissan Skyline GT-R R34.
FAQ:
Q: What is game directory?
A: That's the folder where your NFSU1 installed
Uploaded on:
nfsaddons.com (this site)
nfscars.net
nfsmods.xyz
Please don't reupload to these sites.
Thanks to:
nfsu360 for his NFSU1 ModTools
Oleg M. for Zmodeler