Need for Speed Porsche Unleashed Downloads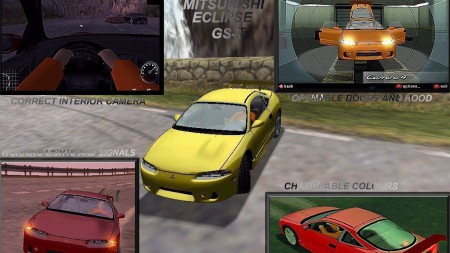 Views 7,273
Downloads 1,648
Version Porsche Unleashed
Brand Mitsubishi
The 1998 Mistubishi Eclipse GS-T

Converted to nfs5 by: newguy2.
From nfs: Carbon


This car is done at the request of STYLIZER.
It is a fun car to drive. Just messing with the settings ingame gives you different driving experiences.
Rhyno spoiler from NFS8:Underground 2. The rims are of x5 Pursuit Chevrolet
Corvette from NFS9:MW(Federal Pursuit Vehicle).

Features:
1.Changeable colours.

2.Working lights including siganls.

3.Accurate performance done by Blake77.

4.Openable doors and trunk.

5.Correct interior camera.

Dosent have:
1.Damage.
2.Openable hood.

BUGS:
1.no known bugs other than the dummy driver who sits like a rock.

Credits:
1. XenTek for converting it from NFS:Carbon

2.STYLIZER for doing the mapping.

3.Blake77 for doing the .sim file fast and accurate.

4.Arushan for his work on the filter.

I hope i didnt forget anyone else. if so i'm sorry.
-----------------------------------------------------------------
I hope all like the screenshot. I tried my best, after all im working with paintshotpro v4.1. I took the idea from AmirGTR's screenshot.