Need for Speed Most Wanted Downloads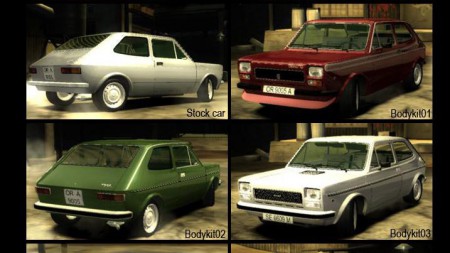 Added On September 13, 2007
Views 18,392
Downloads 2,614
Version Most Wanted
Brand Seat
Credits:

- Arushan (MW tools, thank you very much :) ).
- Seta127 (3D mesh, textures, and conversion).

Installment:

- Install Need for Speed Most Wanted.
- Install the Mod Loader (you can download it on this link: http://www.nfscars.net/file/view/mostwanted/6464.aspx ).
- Decompress this file with WinZip or another.
- Decompress the 7z file with a 7z decompressor.
- Copy the ADDONS folder to you Most Wanted installation directory, and overwrite it.
- Just run the Start NFS MW Mod Loader.bat file to have fun!

Features:

- Paintable body: yes
- Bodykits: yes (five).
- Paintable Rims: yes
- Windows tint: yes
- Price change: yes
- Logos for menus: yes.
- Customizable decals: yes (all except numbers for doors).
- Customizable rims: yes.
- Customizable hoods: not.
- Customizable spoilers: not.
- Applyable vinyls: not.
- Replaces the Audi A3.

Contact:

- Seta127@gmail.com
- Please do not convert or modify my model without permission, or use parts to another 3D models.
- I do not accept request for make models or conversions, so please don't contact with me to make it.