Need for Speed Most Wanted Downloads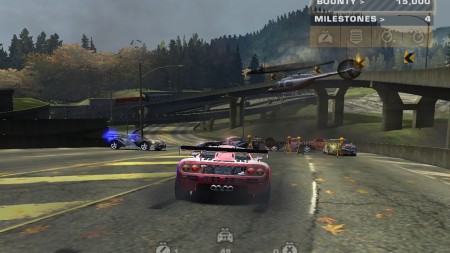 Views 18,809
Downloads 2,749
Version Most Wanted
Brand Other
This car replaces Police Helicopter (COPHELI)
This helicopter was converted from 18 Wheels of Steel : Extreme Trucker 2. I have now successfully converted it to Need For Speed : Most Wanted.
THIS HELICOPTER REPLACES THE POLICE HELICOPTER.
------->CREDITS<-------
-Arushan for discovering the NFSMW:Modtools & the respective authors for the tools required.
-Jakob for the mesh and textures.
-Racer_S for NFS:MW Camera Hack.
THANKS TO THEM.
-----------------------
------->INSTALLATION<-------
1:>Copy modloader & d3d9.dll to your NFS:MW directory.
2:>Make a new folder ADDONS in your NFS:MW directory.
3:>In the ADDONS folder again make a new folders named CARS_REPLACE.
4:>Copy the folder COPHELI inside the CARS_REPLACE folder.
5:>Create a shortcut of Speed.exe which is inside the directory where you have installed NFS:MW. Right click on the shortcut & click on Properties. Then in the target box add '-mod' at the end without commas & leave a space between it & speed.exe. Then click on Apply & OK.
6:>Run the game & go to Career->Resume Career->Resume Free Roam after selecting any vehicle of your wish. Do anything that will make the cops chase you. When they are on your tail, wait till such pursuit condition starts when helicopter is in the sky. You will see this Bell helicopter chasing you.
Alternatively you can start police chases by going to Career->Resume Career->Blacklist 15->Bounty to start the cop chase.
NOTE : If you have installed ENB series, no need to follow Step No.1 mentioned above.
----------------------------
------->INFORMATION ON USE ON EMAIL<-------
Email me only if:-
-You have problem installing the model.
-You want to modify, tune or convert this vehicle to other games.
-You have complaint regarding this vehicle.
-You seen some bugs in this vehicle.
I WILL DEFINITELY HELP YOU.
Do not email me if:-
-You want to request me to convert a certain vehicle.
-You want this vehicle to be replaced on another vehicle.
I WONT HELP YOU & YOUR MAIL WILL BE IGNORED & DELETED.
-------------------------------------------
------->LAST REQUESTS<-------
I have invested a lot of time in converting many cars to NFS:Most Wanted. I improve with every conversion & it takes lot of time & effort to convert cars to Most Wanted. It is a tough job to fix wheel & light positions & also making performance. So please respect my work. Please dont steal & make duplicate copies of this vehicle.
By downloading this vehicle, you have agreed to the following:-
1:>You are not allowed to use any part of this vehicle without my permission.
2:>You are not allowed to tune, modify or convert this vehicle to other games without my permission.
3:>You are free to upload this vehicle to any website provided that the files, author & description remains the same.
-----------------------------
Well enough chit chat now. Thank you for your time in reading all this. Now what are you waiting for? Just install this model & show the other racers your brand new sweet ride. ;)
ENJOY & HAVE FUN.....
- SLZ Roadstar
(Blood-Raid Conversions)
If you are a fan of my cars, then join my facebook channel to get updates of all my new releases :
https://www.facebook.com/SLZRoadstar