Need for Speed Most Wanted Downloads
Skyline R35 GT-R Prototype (2008)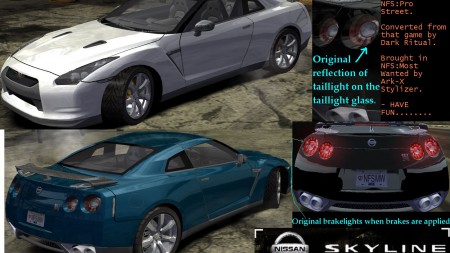 Added On December 3, 2007
Views 268,375
Downloads 66,952
Version Most Wanted
Brand Nissan
This car replaces Mercedes-Benz SL 65 AMG (SL65)
This car was originally made for Need for Speed 11 : Pro Street (NFS11:PS). I have sucessfully converted it to Need for Speed 9 : Most Wanted (NFS9:MW) with the help of Dark Ritual who provided me with the mesh & textures.
This is the best car ever converted by me for Need for Speed 9 : Most Wanted (NFS9:MW). This car looks lifelike. This car will not make you feel as if it is an addon.
In order to enjoy good looks of this car, change your game screen resolution to 1024 X 768 or higher. This car was converted as original from NFS11:PS with minor changes in textures of license plate & brake caliper & no change in mesh. I dont know what texture was used for brake caliper in Pro Street as I dont have that game.
This car replaces Mercedez-Benz SL65 AMG.
->CREDIT GOES TO<-
-Dark Ritual for the whole mesh & textures.
--->FEATURES<---
Original brakelights when on.(See screenshot)
Original reflection of brakelights on brakelight glass. (See screenshot)
Top speed upto 400KPH(approx).
SUPERB ACCELERATION,BRAKING & HANDLING.
Rest are similar as of Nissan Skyline of NFS10:C.
-->CUSTOMIZABLE FEATURES<--
Changeable spoiler.
Changeable rims.
Changeable roof scoop.
Change colours.
Changeable rim colours.
Changeable Window-tint.
Changeable Dash.
-->NON-CUSTOMIZABLE FEATURES<--
No vinyls. For vinyls, refer to INSTALLATION Step No.8 inside ReaD THiS.txt.
No body kits. Only stock is there.
No decals.
No numbers.
No Hood styles.
Non-tunable performance (except for nitrous).
-->MODIFICATIONS MADE TO ORIGINAL MESH<--
NONE. EVERYTHING IS THE SAME.
--->IMPORTANT NOTICE TO ALL<---
I have invested a lot of time in converting many cars to Need for Speed 9 : Most Wanted. Its such a lengty time-consuming process to convert cars to NFS9:MW. This car took has brand new performance & I aslo faced many difficulties in converting it. So please respect my work. Don't steal it & make duplicate copies of it. If this car is found on other site with modifications or with author changed, some strict action will be taken against the uploader & the car will be removed.
--->FEEDBACK<---
Help me improve. Your suggestions are welcome. Just email them to my id. If you have any problem regarding installation or any other thing or if you notice a bug, just email me. If you want to convert/modify/improve/tune this car, you are welcome. Just email me before doing that.
I DO NOT ACCEPT CAR REQUESTS. I WILL ONLY CONVERT THOSE CARS WHICH I LIKE OR WANT.SO DONT EMAIL ME FOR CAR REQUESTS. IF YOU NEED HELP ON CAR CONVERTING TO NEED FOR SPEED : MOST WANTED, SUCH EMAILS WILL ALSO BE IGNORED. I JUST DONT HAVE TIME FOR ANYONE TO HELP. I HOPE EVERYONE GETS THAT.
--->KNOWN BUGS<---
No bugs. Only thing is the cops still say that it is Mercedez & not a Nissan. I dont know how to how it. Its quite hard you knnow. Just bugless if textures & mesh work is considered. ALSO CHECK THE OTHER SCREENSHOTS IF UPLOADED.
NOW WHAT ARE YOU WAITING FOR? JUST DOWNLOAD THIS ULTIMATE DREAM MACHINE & START THE GAME. :P HAVE FUN..........
-Ark-X Conversions.
This car is the second ever car converted from Pro Street. First car converted from Pro Street is 1965 Pontiac GTO by Robin'7t4 @ NFSCars.net NOW UPLOADED TO NFSADDONS/NFSGARAGE BY DARK RITUAL.