Need for Speed High Stakes Downloads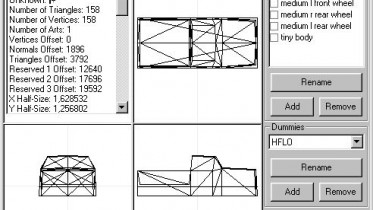 Author: Chris Barnardmore from Chris Barnard
Added on: July 30, 2003
Viewed: 20,806 times
Downloaded: 5,831 times
Share this file:Click to copy URL
CarCad edits the NFS3 and NFSHS car and dashboard mesh files. CarCad v1.5 is the latest version of Chris Bernard's CarCad. It has several new features, a better menu system and most of the bugs from previous versions of CarCad have been fixed. Annoyingly, this version of CarCad lacks the ability to delete polygons (aka triangles), which older versions could. CarCad v1.43 does have a delete polygons feature, so you should download 1.43 also.
You may need to download
These DLL files
(786kb) for carcad to work.