Need for Speed High Stakes Downloads
"Starsky and Hutch" Gran Torino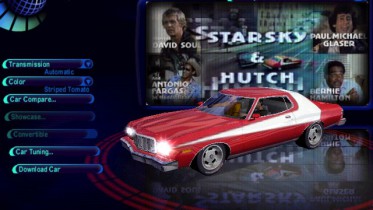 Author:
Sniper
Added on: March 6, 2003
Viewed: 17,621 times
Downloaded: 2,731 times
Share this car:Click to copy URL
The 1974 Gran Torino was used in the very popular TV series "Starsky and Hutch". These bright red sport models with signature white body stripe were produced in very low production for the television show. The 1976 Torino was the last and final Torino before being replaced by the LTD name and product line.

A total of 88 episodes of "Starsky and Hutch" ran from 1975 to 1979. Undoubtedly many reruns will live on for years to come! They used '74 '75 and '76 Torinos originally for the TV series but then Ford built 1000 Special edition "Starsky and Hutch" cars in '76 for consumers and the TV show, many of these cars are still around today.

Total Polygons are 7378 including everthing. Hutch is along for the ride. Dashboard, damage, vidwall, and decent performance for this type of car.
Damage
Yes
Convertible
No
Dashboard
Yes
Class
A
Vidwall
Yes
Serial #
XX
Windows
Black
Licence Plate
Customizable
Top Speed
150 mph
240 kmh
Polycount
7378