Need for Speed High Stakes Downloads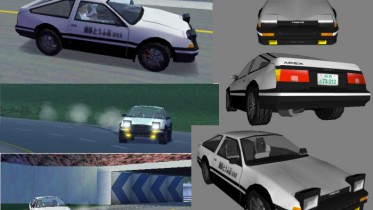 Author:
Apathy
Added on: July 18, 2002
Viewed: 7,525 times
Downloaded: 1,376 times
Favorited: 0 times
Share this car:Click to copy URL
Here it is, my Toyota Trueno from Initial D. I had to release this quickly beacuse of certain problems, but the car is 99% done already. maybe a few tiny bugs and it's a bit fast, but I'm sure those arn't problems. This car is 'scratch made' and i used textures from the anime series. feel free to modify this car or take parts off it. but please tell me beforehand. Thanks!! Enjoy the car.
Damage
Yes
Convertible
No
Dashboard
None
Class
AA
Vidwall
No
Serial #
38
Windows
Clear
Licence Plate
Non-editable
Top Speed
156 mph
250 kmh
Polycount
4484
Driver
Animated