Need for Speed High Stakes Downloads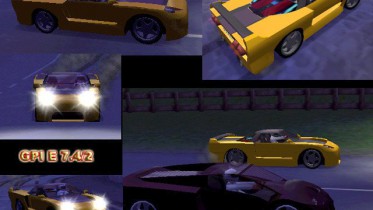 Author:
Gleb Podkolzin
Added on: August 15, 2002
Viewed: 3,720 times
Downloaded: 757 times
Favorited: 0 times
Share this car:Click to copy URL
Another GPI. This would be a higher-performing car than the Exoticar. It has a moving (rotating) rear spoiler, and a completely scratchmade body. Its slightly faster than the Exoticar, and has a touch of oversteer to match the 924 hp engine. The polygon count is a touch under 6100, so you might want to consider a high-poly patch or a reflectionless showroom.
Damage
No
Convertible
No
Dashboard
None
Class
AAA
Vidwall
No
Serial #
43
Windows
Clear
Licence Plate
Customizable
Top Speed
230 mph
368 kmh
Polycount
0