Need for Speed High Stakes Downloads
Pursuit Lamborghini Diablo SV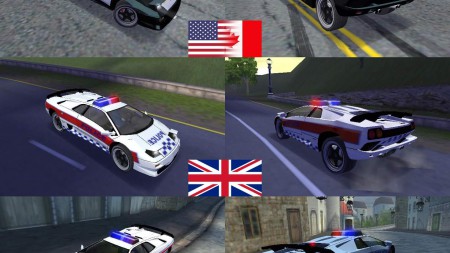 Views 1,469
Downloads 209
Version High Stakes
Brand Lamborghini
Damage
Yes
Convertible
No
Dashboard
Yes
Class
AA
Vidwall
Yes
Serial #
36
Windows
Black
Licence Plate
Non-Editable
Top Speed
231 mph
370 kmh
Polycount
8225
Driver
Animated
This is the Pursuit variant of the Lamborghini Diablo SV. Converted from Need for Speed: World with parts from Forza Motorsport 4 and NFS Hot Pursuit 2.
Replacement for: PURSUIT LAMBORGHINI DIABLO SV
Features:
*8225 polies [VEG's Modern Patch required]
*Dash (default Pursuit Diablo SV dash);
*Multi-language support;
*Australian, American, British, French and German police liveries.
Installation:
-Install VEG's Modern Patch found here: http://veg.by/en/projects/nfs4/
-Open you Need for Speed: High Stakes directory;
-Copy the CAR.VIV file and paste it in the folder "Data/Cars/PDia", replacing the original vehicle;
--make backup of the original 'PDIA' folder;
-Run the game and select the desired vehicle.
Credits:
-AJ_Lethal - help, tutorial and parts (tread texture);
-Ti-Sonic - NFS World mesh and textures;
-nfsu360 - NFS CarToolkit 1.0 and NFS TexEd;
-Viper Jay 5 - Diablo VT 6.0 brake textures;
-Cyrax - Lamborghini Diablo SV conversion from Forza Motorsport 4;
-JYSB59 - Forza Studio 4.1
Used tools:
ZModeler 2.2.6; ZModeler 1; NFS CarToolkit 1.0; GIMP 2.8; Adobe Photoshop CS6; NFS TexEd; Forza Studio 4.1; FCE Centerer; FCE Colors; FCE Finish; NFS Wizard
Enjoy!