Need for Speed High Stakes Downloads
Lamborghini Diablo 6.0 SE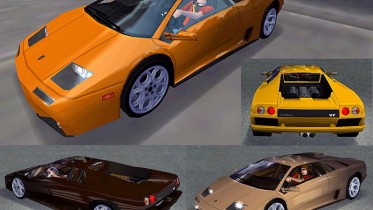 Author:
Roby Design
Added on: June 20, 2002
Viewed: 8,561 times
Downloaded: 2,055 times
Share this car:Click to copy URL
Roby Design has updated his Diablo, and it looks better than ever. Amazing 3d rims, smoother and more detailed mesh, extra 2001 colours: 'Oro Elios' and 'Marrone Eklipsis', floating problems fixed, even the driver has been updated.
The convertible option takes the engine lid off in the showroom. A must download.
Damage
Yes
Convertible
No
Dashboard
Yes
Class
AA
Vidwall
Yes
Serial #
45
Windows
Clear
Licence Plate
Non-editable
Top Speed
206 mph
330 kmh
Polycount
3620
Driver
Animated