Need for Speed High Stakes Downloads
1965 Chevy Impala Scotty Cannon Edition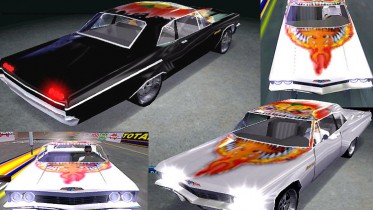 Author:
Sniper
Added on: December 6, 2002
Viewed: 7,009 times
Downloaded: 1,493 times
Favorited: 0 times
Share this car:Click to copy URL
I'll be honest with you all and admit that I have no idea who Scotty Cannon is, but this customized '65 Impala was named after him. ;)
Top speed is high, but the car doesn't feel overly fast. All in all a pretty decent fullsize car.
Damage
No
Convertible
No
Dashboard
Incorrect
Class
A
Vidwall
Yes
Serial #
28
Windows
Clear
Licence Plate
None
Top Speed
182 mph
292 kmh
Polycount
2284
Driver
Animated