Need for Speed High Stakes Downloads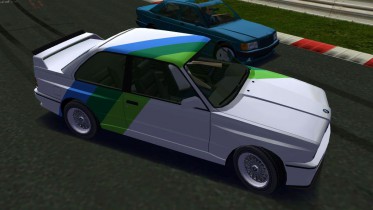 Author:
Team RSR
Added on: March 11, 2010
Viewed: 4,481 times
Downloaded: 940 times
Share this car:Click to copy URL
Our latest work, one one of the typical 1980s sports cars from germany, the BMW M3 E30. It has 210 PS, a very accurate performance for this, a high detailed 3D model, high detailed textures, a realistic damaged model and so on. What is not included is a dashview and upgrades.
Other features are original factory colors including the special BMW M stripe decal in multiple colors like of the BMW M racing team, Volgesang Motorsport and much more, but well, experience it yourself.
Have fun!

Converting, modifying and/or attaching to packages is NOT allowed without written permission, under no circumstances.
Damage
Yes
Convertible
Yes
Dashboard
None
Class
A
Vidwall
Yes
Serial #
8
Windows
Clear
Licence Plate
Customizable
Top Speed
154 mph
245 kmh
Polycount
5845
Driver
Animated