Need for Speed High Stakes Downloads
1975/76 Plymouth Fury Calgary City Police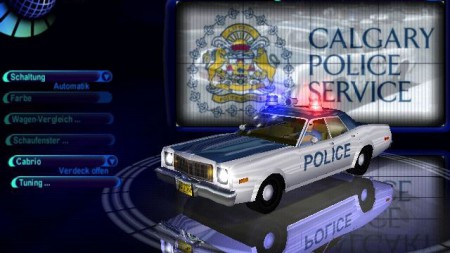 Views 3,501
Downloads 431
Version High Stakes
Brand !Pursuit Cars
Damage
No
Convertible
Yes
Dashboard
Yes
Class
Pursuit
Vidwall
Yes
Serial #
49
Windows
Clear
Licence Plate
Non-Editable
Top Speed
132 mph
210 kmh
Polycount
3654
Driver
Animated
1975/76 Plymouth Fury 'Calgary City Police' (Calgary Police Service, 'CPS')

Original car author: Baardk (1977 Plymouth Fury)

.. this is the first Police cruiser based on my 1975/76 Fury rework and dedicated to my friend Max (BrabusAMG) of NFS Police H.Q.

The convertible option hides or lets the side windows appear ..

Unzip to a new folder 'FCPS' in your NFSDataCars directory, extract 'traffic.zip' to your 'trafficpursuitsedan' folder

Copy, move or extract 'FCPS.QFS' to your NFSDataFeArtVidWall folder and ..

have fun!

FranknFurter @ NFSAddons.com / NFS Police H.Q.