Need for Speed Hot Pursuit 2 Downloads
Mitsubishi Lancer Evolution VIII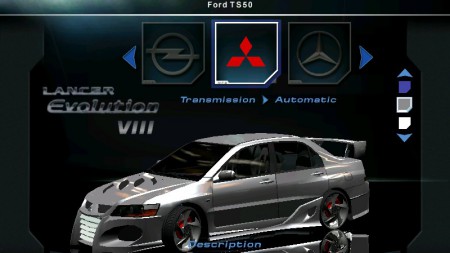 Views 12,180
Downloads 3,000
Version Hot Pursuit 2
Brand Mitsubishi
Thanks to arushan, UCN Conversions and J Design for help on HP2 modding.
Also I would like to thank my friend George for finding all flaws in the car and suggesting improvements. I got the tyre thread going the right way round this time .

FEATURES:
-Highly Detailed Model
-23318 Polys(All i can say is you better have a good graphics card!!!)
-Extensive Sound System
-Damage(hood and boot only)
-Factory colors
-3d engine, rims, brakes and disks, shocks, hood, doors and boot
-Optional Parts(hood & Front Bumper grill)
-Accurate showroom badging included
-Custom Nfs Number Plate
-Mirror Model Support(including damage)
-Driver on proper side in mirrored model
-Tuned Reflections(got even the side mirrors to reflect the world!!!)

My second HP 2 conversion and best so far. Spent 3 months on the car, tons of detail was added, therefore an extremely high poly count of 23318. Very pleased with the car itself, turned out terrific. Compared to the NFS 4 version, many modifications have been made on interior, rear bumper, exhaust, boot mold with the works, 3D intercooler with mean HKS texture, basically made just about everything 3D. Got damage to work this time too. This was last on my conversion list, now I am trying something from scratch, the Ferrari F355, so it may be a while till my next release.