Need for Speed Hot Pursuit 2 Downloads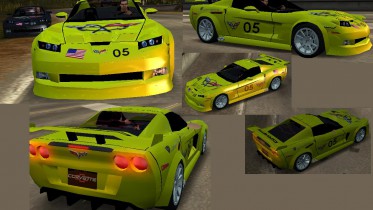 Author:
DanR
Added on: October 29, 2006
Viewed: 5,526 times
Downloaded: 2,080 times
Favorited: 0 times
Share this car:Click to copy URL
Welp...I decided to make upgrade 3 of my original C6 to be a little more racing type. Actually a lot more, hehe. Just look at the picture, it's mean baby! Anywho...I spent a lot of my time this week modifying this.

Colors (Targa option is enabled!):
-------------------------------------
Normal version:
-Red
-White
-Black
-Blue (light and dark)
-Yellow
-Orange
-Silver
-Green

NFS version:
-Gold

Thanks to all who helped me with ideas.
In the future, eventually I will make the all new 2006 Chevrolet Corvette Z06!

Anywho.......
Enjoy!!
Damage
Convertible
Dashboard
Class
AA
Vidwall
Serial #
Windows
Licence Plate
Top Speed
0 mph
0 kmh
Polycount
0