Need for Speed Hot Pursuit Downloads
Ford Thunderbird Tombstone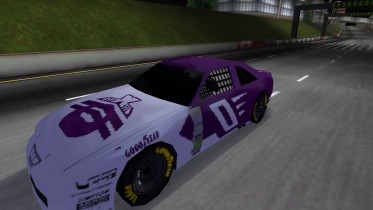 Authors:AJ_Lethal, Opus IV
Added on: May 7, 2019
Viewed: 456 times
Downloaded: 44 times
Favorited: 0 times
Share this car:Click to copy URL
This is a Tombstone, the NFS2 SE bonus car inspired by the Ford Thunderbird used in the NASCAR championship, now available for Need for Speed III. Although there is already another Tombstone on NFS Cars created by Jiraya I decided to upload this additional version, created for Need for Speed IV by AJ_Lethal and converted by me for Need for Speed III, as I find it very well done.

This car has the same performance, steering and rolling as the Tombstone of NFS2 SE, is available to AI opponents drivers in the class A and in all supported languages. Engine sound come from Need for Speed II SE, which then is the same engine sound of NFS3 El Niño.

To install it put "tmbs" folder that you find in the downloaded Zip file into "C:/Program Files/Electronic Arts/Nfs3/Nfs3/Gamedata/Carmodel".

A slide is also available named "11_00.qfs", that will appear on the screen before every race, to insert in the path "C:/Program Files/Electronic Arts/Nfs3/Nfs3/Fedata/Art/Slides". This picture come directly from NFS2 SE.

If you would like to modify, convert and/or distribute this addon, please put AJ_Lethal name as the original author of this addon in the Readme file and/or in the site.

Visit my Youtube channel "Opus IV Gamer" (https://www.youtube.com/channel/UCoIje9MbCb2TOtrMmGttYNg) to see a lot of videos that I made on Need for Speed III Hot Pursuit and don't forget to subscribe to it for new coming videos.
Damage
Convertible
Dashboard
Class
A
Vidwall
Serial #
Windows
Licence Plate
Top Speed
0 mph
0 kmh
Polycount
0